Working with partners to lead the way
As a Rexel customer, you will especially benefit from our extensive network of partners. Our goal is to lead the way in industrial automation, and our extensive network of partners plays an important role in this.
We invest particularly in open automation, meaning manufacturer-independent programming. The programming platform can be connected to devices from many different manufacturers, and unlike traditional "closed automation", the devices speak the same language and the data obtained from them can be easily utilised. Open automation frees you from learning several different software systems and gives you the freedom to choose the most suitable solutions for your production chain.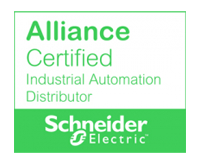 Schneider Electric, our main partner in industrial automation, has confirmed Rexel as an Alliance Industrial Automation partner. This means that our sales personnel are trained as experts in Schneider Electric's automation solutions and application expertise.
All of our automation partners